Dentistry from the Heart
Taylor Dental has teamed up with Dentistry from the Heart, a non-profit organization, and several volunteers from the local dental community to provide free dental care to patients in the Pensacola area, and we have been blown away by the response over the past couple of years! Local dentists, hygienists, assistants, and front office staff have united together to serve our local community that has been so supportive of our practice. We realize that dental insurance is not a luxury that many people have, and receiving basic dental care can be costly. Our doctors decided to dedicate one day to close the office for our regular patients and meet an overwhelming need in the community. Patients start lining up 14 hours in advance to reserve their place in line for cleanings, extractions, and fillings. Over the past 2 years of hosting this event, we have been able to provide $95,536 in FREE dentistry to patients in need. Our Taylor Dental team is passionate about what we do, humbled by this experience, and we are very grateful for the opportunity to serve this great community!
Pensacola Humane Society
We believe that we can't properly reach our community without taking care of a man's best friend! Our furry friends need help too, and we make it a priority to donate our time and resources to helping the Pensacola Humane Society take care of the pet population. In addition to several monetary donations throughout the year, we feel honored to contribute to events such as Barktober Fest and Paws on Palafox. We look forward to continuing this relationship and making Pensacola a great place for all.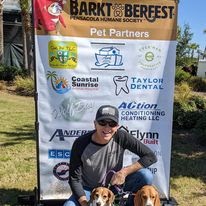 Sacred Heart Bereavement
As a practice, we strive to take care of our patients and community to the best of our abilities. We understand that during hard times, even the smallest gesture can uplift spirits and provide comfort in the face of grief. This is why we supply Sacred Heart with free impression alginate so their support team can take impressions of the hands and feet of babies whose lives were tragically cut short. We hope these momentos pay tribute to the loss felt by these parents and give them something to hold on to for years to come.