Dentistry is a constantly evolving field, which is why our Taylor Dental team has gone to great lengths to always offer the most current and efficient oral healthcare. With an office outfitted with the most cutting-edge technology available, we can better serve our family of patients. For this technology to truly be useful, it must be used by a trained hand. This is why our team consists of specialists trained to use these tools to provide optimized treatments.
CERAC Machine
THE CERAC machine allows us to better provide treatment with a more comprehensive view of your oral health while prioritizing your safety. This machine features fully enclosed tools that allow for easy disinfection and eliminates the risk of cross-contamination. The purpose of this machine is to be a chairside system that is a jack of all trades. CEREC incorporates CAD/CAM (computer-aided design and computer-aided manufacturing) technology, enabling us to take 3-D scans of your smile. As a result, you do not have to undergo traditional, manual impressions. These images can then be used to construct your custom restoration in-office. It allows us to offer same-day crowns so that all of your appointments are efficient instead of being segmented.
This machine is crafted to minimize your waiting time and make your visits more enjoyable. This machine removes the need for you to take more time off work or remove your child from school for yet another appointment. You've got a busy schedule, and we want to honor your investment of time and provide you with an all-inclusive service such as the CERAC machine.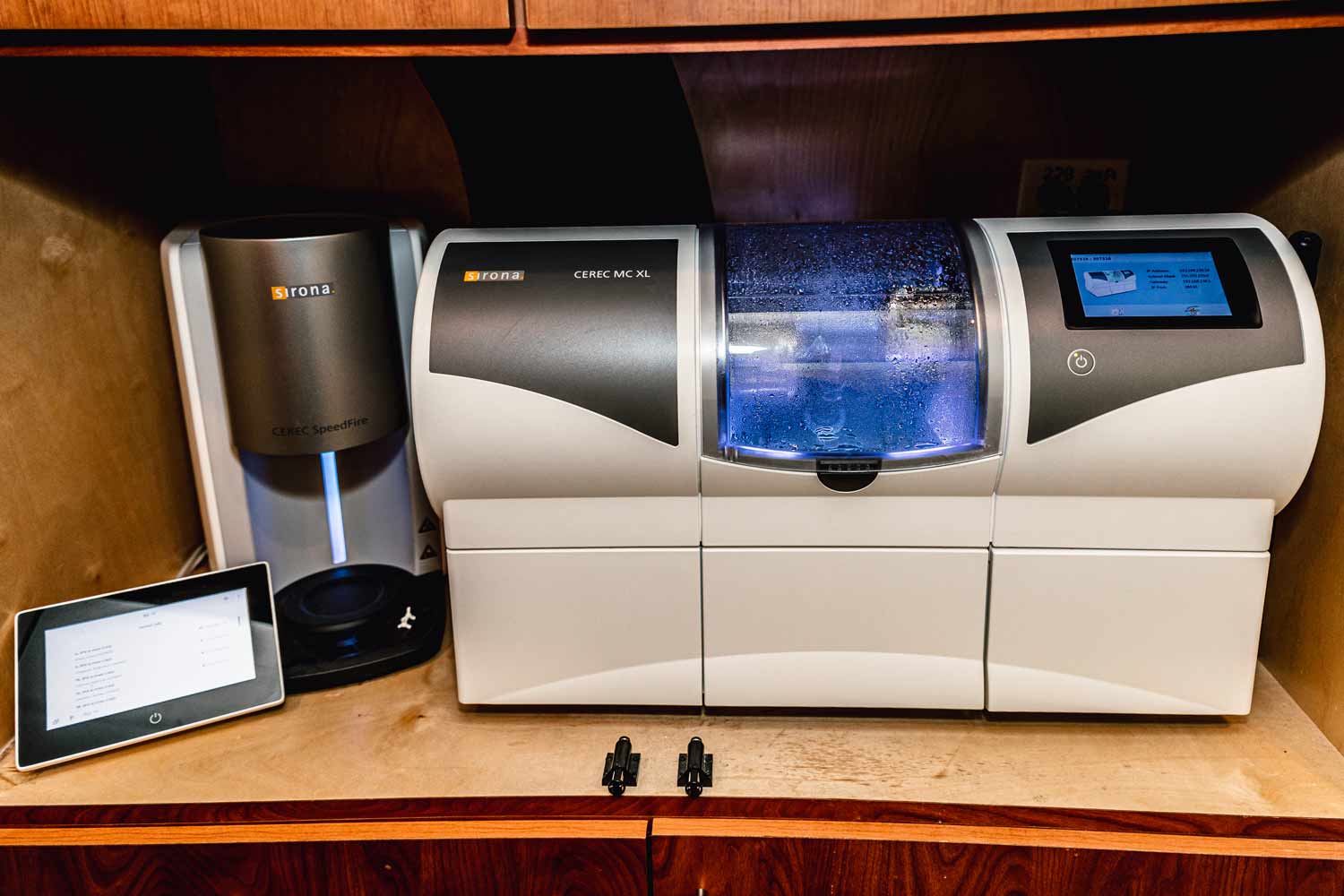 Digital X-rays
Digital X-rays are used in our office to photograph your mouth and jaw so that our doctors and team can have a better understanding of your dental needs. The digital X-rays capture images that we can see within moments of taking them. This is made possible through digital X-ray sensors instead of the older method of using photographic film.
The use of digital X-ray sensors rather than film benefits our patients in a variety of ways. It is more efficient than its older counterpart by eliminating any room for human error and digitally producing an image for evaluation. This digital image also allows us to adjust the size of the picture without compromising the integrity of the results. Another great benefit of digital X-rays is that you are exposed to less radiation making for a safer experience.
Intra-Oral photos
Intra-oral photos are pictures taken of specific areas of your mouth with an extremely high-quality digital camera. These pictures are taken very close up to the area in question and are compiled together to give our team a fuller understanding of your oral health. These pictures may focus on one tooth, group of teeth or any other area of interest.
Intra-oral photos are used to establish a baseline so that we can monitor areas of your mouth and determine if any dental conditions are being resolved or worsening. It's important that we have a clear original image to compare your teeth to so we can accurately evaluate your oral health. We will also send these pictures to any specialists we ever need to refer you to so that they, too, can understand your oral health needs.
Every piece of technology we introduce at our practice serves a purpose and plays a part in our larger goal to provide top-of-the-line dental care in the most efficient way possible. This cutting-edge technology elevates our treatments in a way that better serves our family of patients.